Siquijor Island – Jinxed Island
The trip from Ho Chi Minh to Siquijor Island was a huge deal. It's not easy at all to get there. My flight from Ho Chi Minh to Manila was 1:35am in the morning. After almost 2 1/2 hours I arrived in Manila at 5:05am (1 hour time difference). I had a short layover of 4 1/2 hours and my flight was about to leave at 9:45am, but unfortunately we had a delay of 1 1/2 hours, because we had to wait for another flight. Once I arrived at the "little" airport in Dumaguete I had to take a tricycle to get to the port of Dumaguete. From the port of Dumaguete I took a ferry to the port of Siquijor. At the port of Siquijor I rented a scooter right away and drove with my big backpack and my day Pack to my hostel. After almost 15 hours I finally arrived at my Hostel Toris Backpackers (thanks for the tip Micha und Yvonne).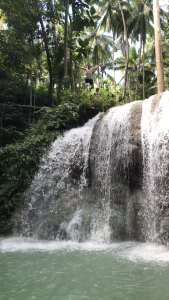 These 4 days were a blessed. I love this Island – the atmosphere, the locals, the Paliton Beach and all the water falls there. Better don't miss out the Cambugahay Waterfall and Lugnason Waterfall. It was such a great experience and a lot of fun to jump from the waterfall or to swing with the rope into the pool ?
[ngg_images source="galleries" container_ids="2″ display_type="photocrati-nextgen_basic_thumbnails" override_thumbnail_settings="0″ thumbnail_width="240″ thumbnail_height="160″ thumbnail_crop="1″ images_per_page="20″ number_of_columns="0″ ajax_pagination="0″ show_all_in_lightbox="0″ use_imagebrowser_effect="0″ show_slideshow_link="1″ slideshow_link_text="[Show slideshow]" order_by="sortorder" order_direction="ASC" returns="included" maximum_entity_count="500″]
Big big thanks to my scooter gang – Lisa, Selena and Chizkiyahu (aka Chris ?) – love you guys!
I couldn't have had a better start in the Philippines ….